New Year Arctic Adventure 2023
What's Included
Reindeer Sleigh Safari
Visit the Reindeer Farm and experience a romantic reindeer sleigh ride through the picturesque forest. 2km.
Snowmobile Safari
Hop on, rev up and head off road into a world of stunning, unspoilt scenery. 3-4 hours duration.
Amethyst Mine Tour
Visit Europe's only amethyst mine – and a chance to mine your own gems!
Return Flights Chartered With Jet2
Gatwick - South Terminal.
New Year's Eve Dinner
A delicious celebration dinner served; followed by an after party in the open-air.
Snow Suits & Boots
Cosy thermal suits and boots supplied free of charge.
Husky Safari
Learn all about the Arctic huskies before driving a team of dogs on an exciting 4km safari.
Snowshoeing
Enjoy a "white hike" through the frozen forests and fells. 90 minutes.
6 Nights Accommodation
Hotel, apartment, log cabin & villa options available.
Bed & Breakfast
Buffet breakfast included. Half Board upgrade available.
Resort Transfers
All airport and activity coach transfers are included.
100% ATOL Protected for Your Peace of Mind
Would you like to do something different this New Year? Have you dreamed of seeing the Northern Lights? Then, join Canterbury Travel and experience a 6 night adventure holiday in the majestic winter wonderland of Finnish Lapland. This adventure holiday is sure to be popular with adults seeking an alternative post-Christmas winter holiday destination and it's also suitable for children over 5 years of age.
Accommodation
Pyha Hotel
Phya Suite
Phya Linna Family
Persons Per Room Sharing
2/3
2/5
2/4
Date
Dep Airport
Prices in £ per person sharing
27 Dec 2023
Gatwick
1760
1740
1785
*Subject to availability
*Child Reduction £100
Enquire/Book
ITINERARY
Celebrate the New Year in Style
Spend the New Year in the unique setting of the Arctic Circle, while enjoying a holiday full of challenging snow-based activities.
Lapland Arctic Adventure is a perfect post-Christmas holiday and with great flight times (you leave at around 10 am and on return land at 7 pm) you're sure to make the most of your time in Lapland.
Luosto and Pyha are set within the National Park and are fabulous places to experience all that Lapland has to offer.
Enjoy a special dinner on New Year's Eve, followed by an after-party in Luosto.
Will the Aurora Borealis grace the sky as the clock strikes twelve?.
Exciting Excursions Await You in Pyha and Luosto
A range of traditional Arctic activities are included in the of this amazing tour.
From an energising 90 minute snow shoe hike around Pyha and Luosto Fells, to a leisurely reindeer sleigh ride, to a thrilling husky safari and an exhilarating 3 hours (approx) snowmobile safari through the Lappish wilderness.
Optional Excursions
There will also be a variety of optional excursions for you to enjoy while in resort, at your leisure.
Optional excursions can be pre-booked or reserved while in Luosto or Pyha.
The variety of excursions in Luosto and Pyha include Ice Karting, Cross Country Skiing, Ice Climbing, Snow Sculpting and Ice Fishing (subject to availability, additional charges apply).
You can also upgrade your package to include half-board dining at the Luostotunturi Hotel or the A La Carte restaurant Vaisko in Luosto, A half-board package is also available in Pyha. Please ask one of our experts for prices and further details.
After the activities of the day
In the evening you can relax at the Luostonhovi Bar and Restaurant if staying in Luosto; here you can enjoy an après-ski or après-safari drink and a bite to eat.
In Pyha there is a lovely bar at the Pyha Hotel and also at Huttuhippu Restaurant.
Accommodation
Pyhä Linna are luxury open-plan apartments with views across the Pyha Fell. The delightful apartments are perfect for families comprising two adults and two children.
Pyha Linna are under 10 mins walk to the centre of the ski village and the restaurants.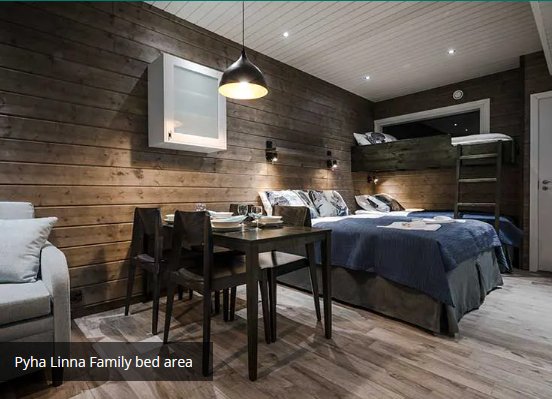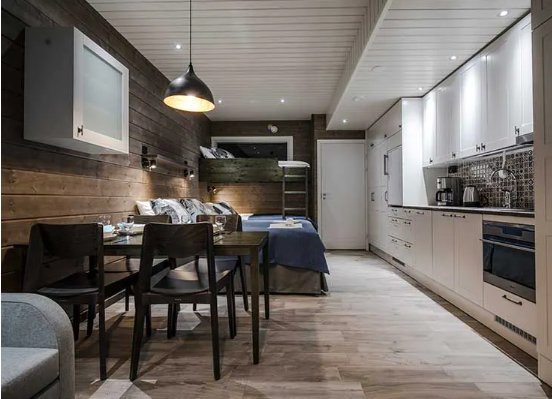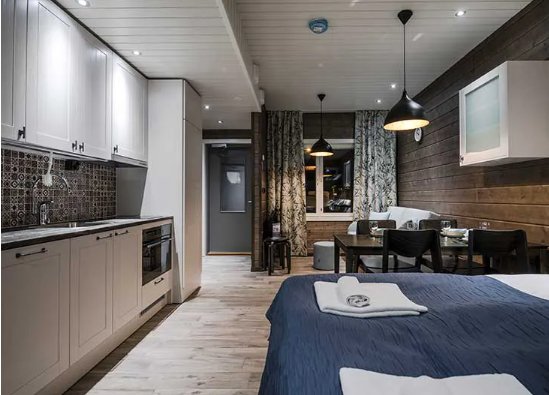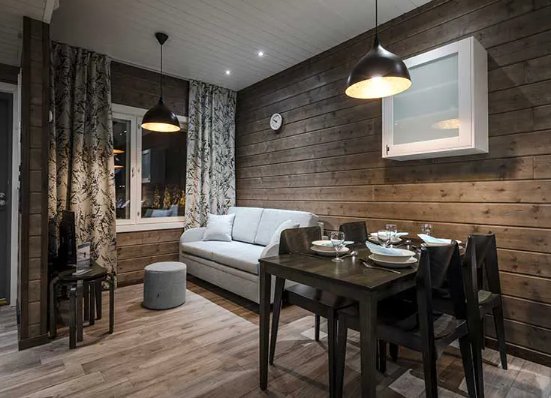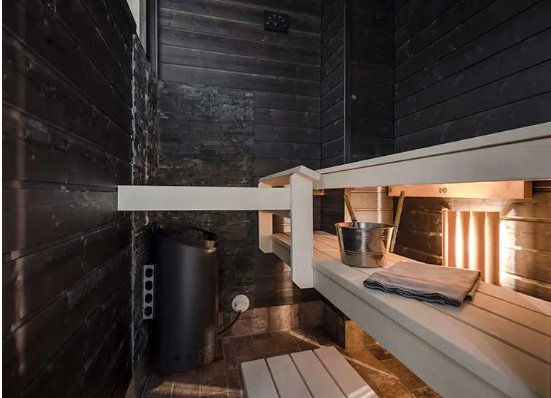 Open Plan Apartment
The beautiful Pyhä Linna Apartments offer everything you need and more for your magical holiday in Lapland. They are elegantly furnished and epitomise modern Scandi style. The apartments are open-plan and have 2 twin beds plus 2 single bunk beds for children.
There's plenty of room to relax in the sitting area, which has a TV/DVD for your entertainment. Plus, a fully equipped kitchen for those essential hot chocolate bedtime drinks. The luxury bathroom with shower, has a traditional Finnish sauna attached. There's a drying cabinet to refresh your thermal clothing, ready for the next days activities. Free WIFI. 
The Pyha Suites are contemporary style 2 bedroom apartments that sleep up to 5 people. The apartments are very centrally located in a separate building close to the Pyha Hotel. Just a short 5 mins walk to the gondola and ski slope; plus all of the amenities that the delightful resort of Pyha has to offer.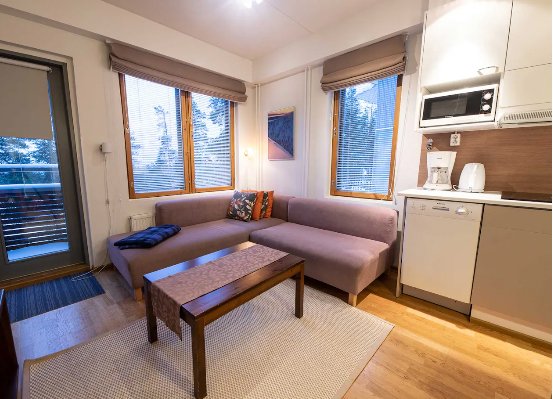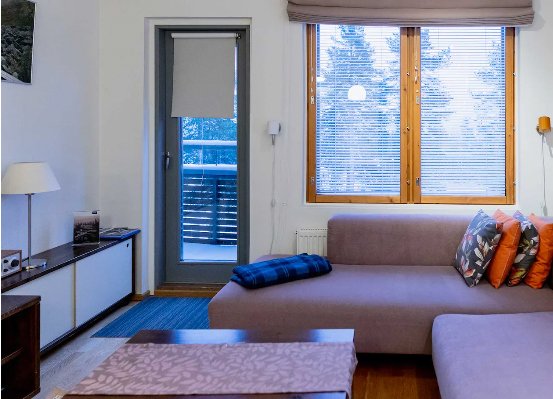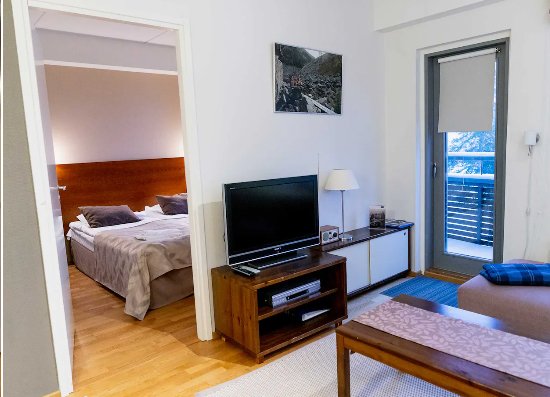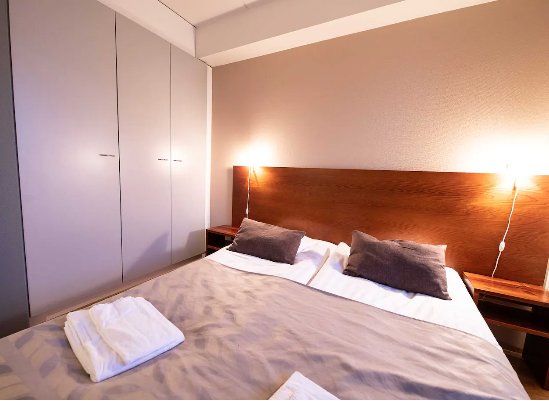 2 Bedroom Apartment
The Pyha Suites are modern in design and tastefully furnished throughout.  The Suites are ideal for families as they provide the added bonus of separate sleeping areas.  There are two comfortable bedrooms, one with twin beds and the other with a double bed with a single bunk above it.
The attractive lounge with TV/DVD is a pefect spot to relax and unwind in during the evening.  In addition the Pyha Suites benefit from a shower room with sauna, a fully functioning kitchenette and a drying cupboard for your thermal clothing. Free WIFI.
Pyhä Hotel
Pyhä Hotel is an excellent choice of accommodation situated conveniently within the centre of the ski village. It features a selection of 2/3 person rooms and also offers a small number of family rooms, which can accommodate 4 people. The restaurant and bar are of a high standard and the perfect place to take in the views overlooking the frosty fells. A true Winter wonderland.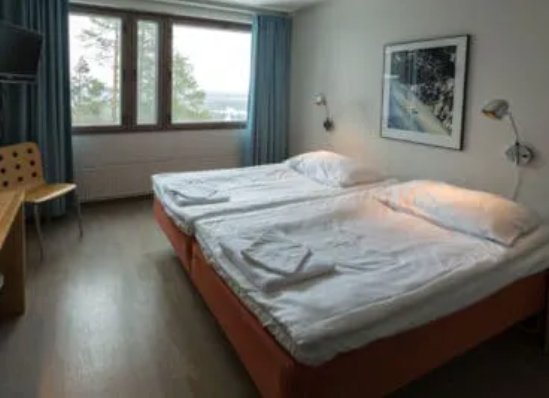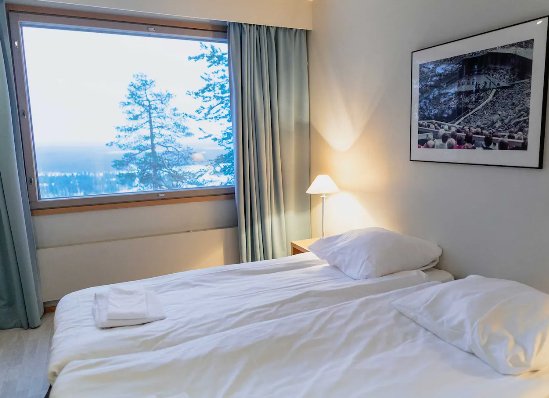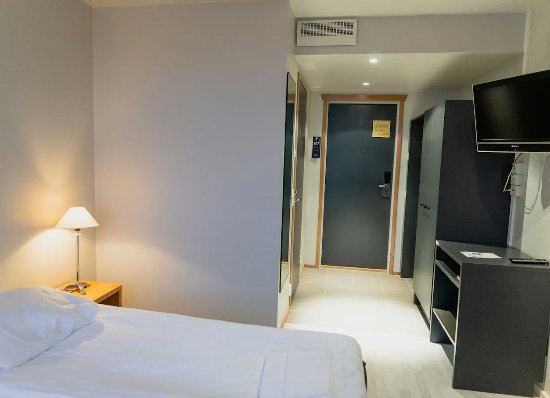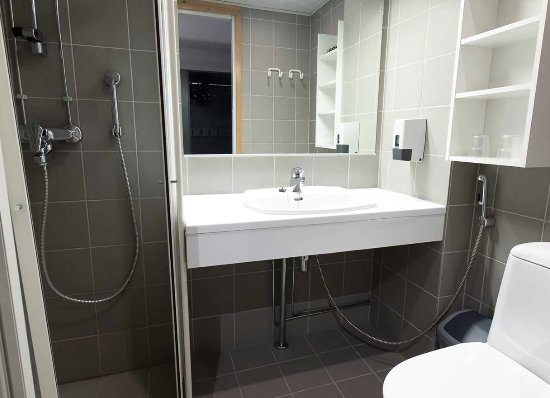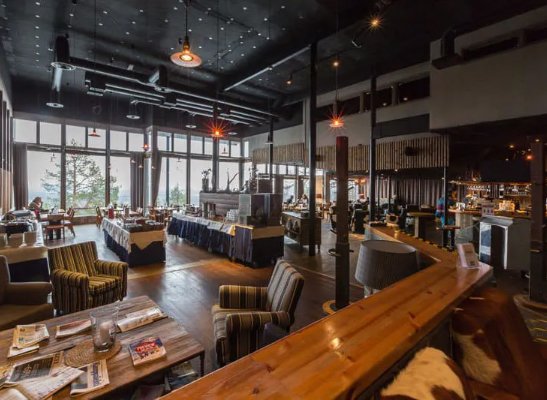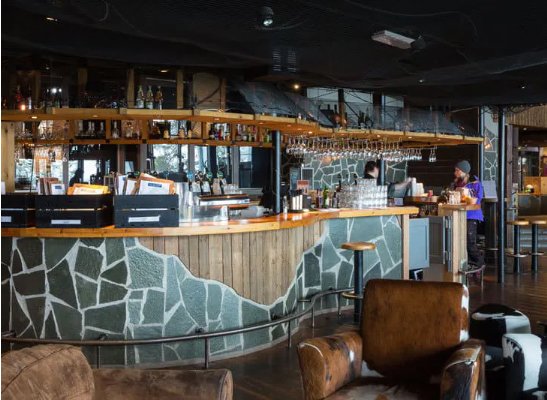 Twin/Triple Bedrooms
The Pyhä Hotel rooms for 2/3 people are contemporary in style and comfortably furnished.  Each of the bedrooms has 2 twin beds and an extra single bed. The bedrooms are well equipped with TV, an ensuite shower room, hairdryer and a useful drying cupboard for your snow suits and boots.  Free WIFI.
Family Bedrooms
The restful Family bedrooms at the Pyhä Hotel sleep up to 4 people.  Staying at the Pyhä Hotel is particularly recommended for families with children under the age of 4 years. The bedrooms feature 4 twin beds and each room has a TV, an ensuite shower room, hairdryer and a handy drying cupboard for your thermal clothing.  Free WIFI.

RESERVATION ENQUIRIES
Please fill out the form below and we will get back to you as soon as possible.